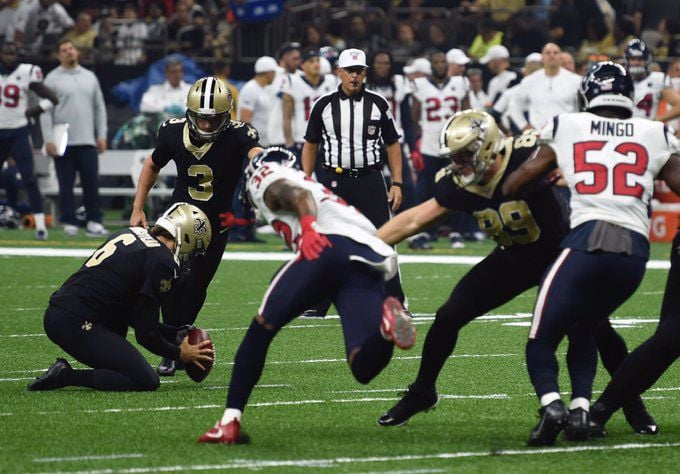 The 2019 NFL season is underway, and so is the season long prognostication contest between myself and Mr. Watts. We're still deadlocked after i got the Bills-Jets game right and he got the Buccaneers- 49ers one correct.
And ugh, one I came 2 seconds from getting wrong was the Saints-Texans one. A 58 yard game winning field goal saved that pick because you don't go against the Saints when they are playing in the Superdome.
And yeah, Saints fans are still majorly pissed about the call in the NFC Championship Game eight months ago that cost them a trip to the Super Bowl
Gotta shake it off because there are 16 more games to pick this week and I need to build on the nice Week 1 start. Speaking of good starts, there are a few NFL teams that will be like my Texans fighting for their first win of the young NFL season so they don't fall into an 0-2 hole.
My picks will be in bold red print with the HOME team in all CAPS. Mike's picks will be at this link for you to peruse.
Week 1 Results 2019 Season Record
TransGriot 10-5-1 TransGriot 10-5-1
Mike 10-5-1 Mike 10-5-1
Thursday Night Game
PANTHERS over Buccaneers
Sunday Early Games
TEXANS over Jaguars
RAVENS over Cardinals
Cowboysover WASHINGTON
TITANS over Colts
Seahawks over STEELERS
GIANTS over Bills
BENGALS over 49ers
Chargers over LIONS
PACKERS over Vikings
Patriots over DOLPHINS
Sunday Afternoon Games
Chiefs over RAIDERS
Saints over RAMS
Bears over BRONCOS
Sunday Night Game
Eagles over FALCONS
Monday Night Game
Browns over JETS