The third major on the professional tennis Grand Slam calendar started on July 2. It is one that my fave tennis playing siblings have dominated so thoroughly since they joined the tour in 1999 that I call it 'Williamsdon'.
Venus and Serena Williams domination of this tournament is so awesome that during the 2000's, the only times someone not named Williams won Wimbledon in this decade was in 2004 and 2006.
Maria Sharapova Sharadopa upset Serena in the 2004 Wimbledon final, and Amelie Mauresmo beat Justine Henin in 2006 after Venus was upset in the third round and Serena was sidelined with a knee injury.
Four times during the 2000's, the Williams sisters played each other for the Venus (Williams) Rosewater Dish in 2002, 2003, 2008 and 2009.
They even won Olympic gold in singles (Serena) and doubles during the 2012 London Games on those same All England Club grass courts
This latest edition of The Championships at the All England Lawn Tennis and Croquet Club found Serena seeded 25th and big sis Venus entering this tournament seeded ninth..
Five time champ Venus started this edition of Wimbledon trying to repeat her run to the 2017 Wimbledon finals. She started a troubling pattern in her opening round match with Johanna Larsson of Sweden in which she would drop her first set, then come storming back to win the match.
In her match versus Larsson, Big Sis dropped the first set in a tiebreaker 6-7 (3-7), then took the next two by 6-2 and 6-1 scores to get to the second round match with Romania's Alexandra Dulgheru. Once again, Venus dropped the first set 4-6, then came storming back to win the next two by 6-0 and 6-1 scores.
But sooner or later, playing three set matches and doing it the way Big Sis was will catch up with you against a better player, and it did in the third round against 20th seeded Kiki Bertens of the Netherlands.
Venus once again dropped the first set in this match 2-6, then took the second set in a tiebreaker 7-6 (7-5).. She dropped the third set and the match 6-8 to exit the tournament.
She wasn't the only seeded player to have problems at the All England Club Ten seeded players went out in the first round. One of those peeps who had to sashay away from Centre Court in the first round was (heh heh heh) Maria Sharapova.
Four other seeded players got dispatched in the second round, including 2017 Wimbledon defending champion Garbine Muguruza. Eleven others joined Venus in the third round including tournament number one seed Simona Halep.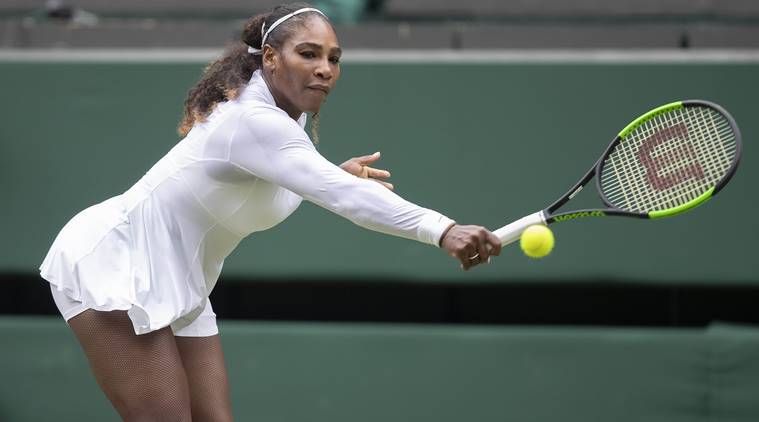 All this to say that Serena thanks to all those upsets has to be considered a favorite to win her eighth Wimbledon title and her 24th career Grand Slam title.
But first she has to play and get through the matches.
Little Sis faced Arantxa Rus of the Netherlands in the first round, and beat her in straight sets 7-5, 6-3. Her second round opponent was qualifier Viktoriya Tomova of Bulgaria, who like Rus, got sent packing in straight sets 6-1, 6-4.
Her third round match was more of a challenge in Kristina Mladenovic of France. Serena had to work a bit for this one, but still beat her in straight sets 7-5, 7-6 (7-2) in the second set tiebreaker.
That sent Serena to the fourth round, where she will face another qualifier in Russia's Evgeniya Rodina.
Should she successfully navigate that match, it would put her in the quarterfinals versus the winner of the Camila Giorgi-Ekaterina Makarova match.
Definitely looking forward to seeing how this second week of 'Williamsdon' plays out.
TransGriot Update: Serena beat Ridina 6-2, 6-1 to advance to the Ladies singles quarterfinal round and play Camila Giorgi of Italy.