It's been a long time since we last saw Venus Williams playing in a Wimbledon final. It was 2008 to be precise as the defending Wimbledon ladies singles champ, and she was playing against her little sister Serena.
Tenth seeded Big Sis now had the opportunity to reach another one and keep her hopes alive of capturing a sixth Wimbledon title. But to do so she would have to battle sixth seeded British homegirl Johanna Konta and a Centre Court crowd cheering her on.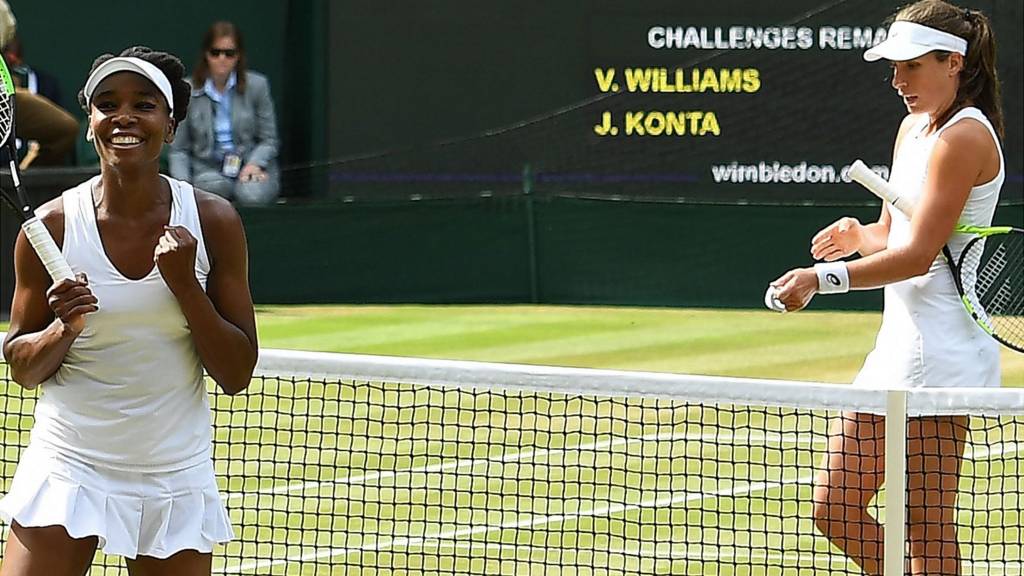 It was a tight match in the first set with both players holding serve until the ninth game when Venus got into a 15-40 hole but climbed out of trouble.
The critical point of the match came at 30-40 in that game. Instead of hitting a slower second serve, Big Sis instead went for broke and walloped a 106 MPH second serve that caught Konta by surprise and she missed the return.
Williams would go on from that point a 40-all to hold serve and move to a 5-4 first set lead. Venus then stepped up the pressure in the next game and started teeing off on Konta's returns to take the first set.
Big Sis continued her stellar play in the second set as Konta tried to stay in the match, but Venus would not be denied as she takes the second set and the match 6-4, 6-2 in straight sets.
It took Big Sis her a mere one hour and thirteen minutes to survive and advance to her ninth Wimbledon final and become at age 37, the oldest player ever to do so.
She will face 14th seeded Garbine Muguruza, who Little Sis beat in the 2015 Wimbledon finals and who dispatched Slovakia's Magdalena Rybarikova 6-1, 6-1 to punch her ticket to Saturday's final.
Can Venus pick up another Venus Rosewater Dish for the Williams family trophy case? We'll find out this weekend.