The 2017 Australian Open is the first Grand Slam tournament of the tennis season, and for the first time since 2003 ,the Williams sisters will be facing off against each other for the title.
We Black folks in the States think this is a BFD, but if you ever wondered how this news is playing out across the rest of th African Diaspora, check out what a Nigerian based TV station is saying about the looting championship match starting at the 1:13 mark.
Venus had the tougher match to get to final, facing giant killer Coco Vandeweghe, who took out defending champ Angelique Kerber
She hadn't dropped a set enroute to this semifinal match with Vandeweghe, but after the first set got away from her in the tiebreaker , she rebounded to break Vandeweghe and cruise to a 6-2 win to even the match, and then uncorked several aces enroute to taking the third set and the match.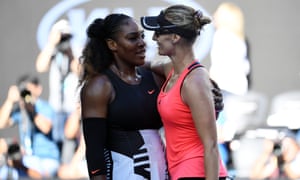 Venus wins it 6-7 (3-7), 6-2, 6-3 to punch her ticket to the final and shots at her first Australian Open title and eight Grand Slam title overall
Meanwhile Serena was facing off against surprise semifinalist Mirjana Lucic-Baroni of Croatia, and she took only 50 minutes to cruise to a 6-2, 6-1 straight set victory and set up she and Big Sis first clash in a Grand Slam final since the 2009 Wimbledon.
She hasn't dropped a set in this tournament, and Little Sis will not only be playing for her seventh Australian Open title and her 23rd career Grand Slam title win but if she wins will reclaim the world number one ranking.because of Kerber's early exit from this tournament.
Going to be fun to watch this one at Rod Laver Arena on Saturday.