Yesterday in downtown Philadelphia the 2016 DNC LGBT Caucus meeting took place in a packed room at the Pennsylvania Convention Center.
11.5% of the delegates here for the #DNCinPhilly are members of the LGBT community, which is an increase over the 7.5% of the delegates our community made up at the 2012 DNC in Charlotte.
While we're repping different letters of the alphabet and in some cases multiple intersectional identities, we are united in LGBT World in ensuring that Donald Trump goes down to crushing defeat on November 8 and ensuring our civil rights are protected.
During the LGBT Caucus event, that started at noon EDT, in addition to discussions about the Equality Act, HB2 and other issues of importance to the community, some of the 28 trans delegates in attendance at this event were introduced to the LGBT caucus crowd.
Barbra Casbar Siperstein, who is on the DNC Executive Committee and one of the two trans superdelegates, was also on hand to give out the Jane Fee Award, which is quadrennially given at the DNC convention and named for the Minnesotan who in 2000 became the first out trans delegate to attend a DNC convention..
It;s given to the trans ally within the Democratic Party who has stood up for and is supportive of trans rights issues within the party.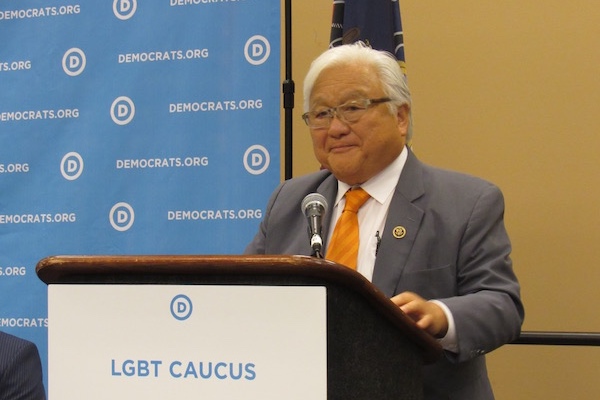 The Jane Fee Award was given to Rep. Mike Honda, (D-CA) who has been openly supportive of his transgender grandchild and has been not only on an evolutionary journey to understand the terminology of our community, but has stepped up to become a trans supportive legislative champion..