The 2016 CONCACAF Women's Olympic Qualifying Tournament has been going on in Texas since February 10 to determine who gets the two Rio Olympic soccer tournament slots allotted to CONCACAF.
The scene has shifted to Houston for the knockout rounds of the tournament, with the semifinals being played last night at BBVA Compass Stadium.
Group B winner Canada faced off against Group A runner up Costa Rica for one of the two Olympic slots, and thanks to their captain Christine Sinclair's two goals in the 17th and 51st minutes punched their ticket to Rio with a 3-1 win.
Costa Rica's Raquel Rodriguez added one from the penalty spot to cut the Canadian lead down to 2-1 in the 71st minute, but Deanne Rose scored in the 86th minute to put Canada comfortably back in front by two goals and secure their spot in the tournament finals on Sunday.
Two hours later it was the USA facing off against the surprise runners up of Group B in the Women Soca Warriors of Trinidad and Tobago, who clinched their spot in the knockout round with a 5-1 win over Guyana on February 16.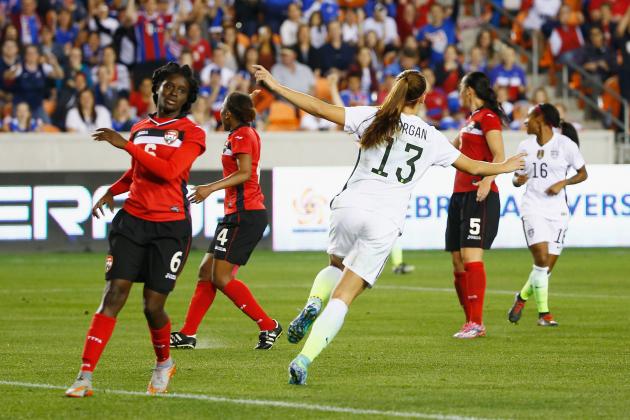 But playing Guyana and the world champion USA squad are two different tasks, and 12 minutes into the match Tobin Heath scored to put the world champs up 1-0. Alex Morgan score the first of her three goals in the 30th minute to put the USA up 2-0, and Carli Lloyd scored in the 43rd minute to send the USA to the locker room at BBVA Compass Stadium with a 3-0 halftime lead.
Morgan completed her 3rd international hat trick with goals in the 71st and 73rd minutes to send the USA to the finals of this qualifying tournament on Sunday against Canada with the second CONCACAF Olympic qualifying spot nailed down.
It is the sixth consecutive time that the USA women's team has qualified for the Olympics, and they will be seeking their fifth straight Olympic title when they do get to Rio.
On Sunday the USA an Canada clash for the CONCACAF Qualifying tournament title in a game in which nothing is on the line but pride and a trophy.
The real fight will be starting on August 3 when the women's Olympic soccer tournament kicks off.