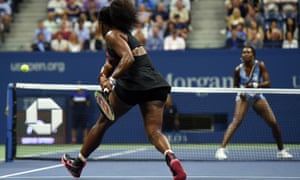 For the 14th time in a Grand Slam tournament, the first time at the US Open since 2008, and the 27th time in their careers But this prime time quarterfinal match had high stakes with a semifinal berth on the line.
Serena's pursuit of her fourth consecutive US Open singles title and the first calendar year Grand Slam since 1988 was on the line, Venus was working on trying to win her third US Open title and her first since 2001 when she beat Little Sis in the final to get it.
The match started with both sisters hitting hard, hitting winners and staying on serve until Serena gets the break she needed to go up 4-3 and close out the first set in 33 minutes.
Then it was Big Sis's turn to up her game as Serena suffered through a stretch of bad play that allowed Venus to close out the second set and even the match.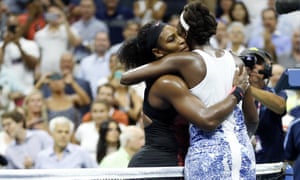 Then Serena as she has done all season reset, kicked her game up to A++ level and quickly reeled off three straight wins to seize control of the decisive third set and close out this emotional win with her 12th ace of the match to punch her ticket to the semifinals.
6-2, 1-6, 6-3 Five match wins down, two to go.
Her semifinal victim opponent will be Italy's Roberta Vinci who has been on the short end of her matches with Serena, having lost to her four times/
Don't think Thursday will be any different, but that's why you play the game..
TransGriot Update: The Thursday women's semifinal matches got rained out, so they were rescheduled for Friday.