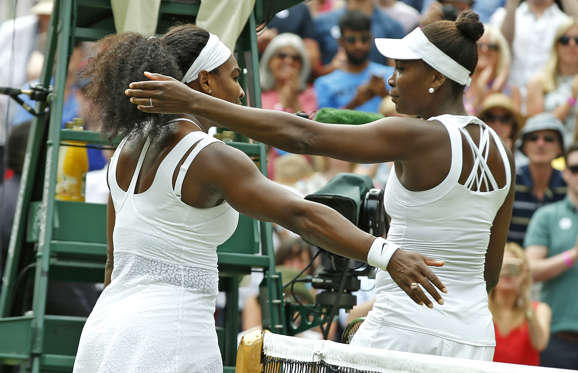 Because the geniuses at the All England Club had Serena and Venus on the same side of the draw, they met for the 26th time and the first time in six years at this Grand Slam event that has been their personal playground.
At 'Williams'-don, Serena and Venus have won a combined 10 singles titles (and counting), five doubles crowns. one mixed doubles title, and oh yeah, the 2012 London Olympic singles and doubles gold medals.
But this time they were playing for high stakes at Centre Court. In addition to both seeking their sixth Wimbledon crowns and a spot in the quarterfinals, Serena was playing to keep her Serena Slam alive and her pursuit of a calendar year Grand Slam going as well.
While Venus had a 6-3, 6-2 straight set victory over Aleksandra Krunic to get to this fourth round showdown with her number one seeded little sister, Serena had to battle all of the Centre Court crowd and Great Britain's Heather Wilson to get there. It took three sets in which there were some testy moments, but she prevailed 6-2, 4-6, 7-5 to get to the match with Big Sis.
While Big Sis put up a fight, Little Sis is just too good and rolled to a 6-4, 6-3 straight set win.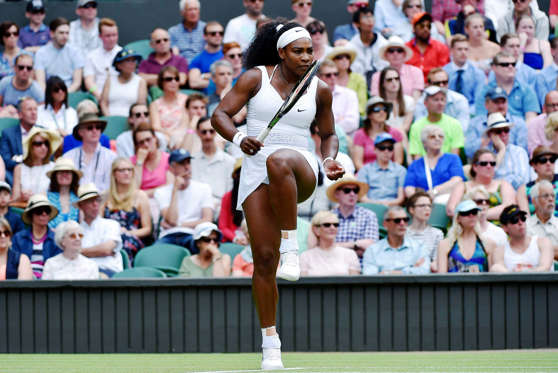 But the fun is just getting started for Serena. Waiting for her in the quarters is Victoria Azarenka, and should she get past her, a potential semifinal matchup with Maria Sharapova is on the horizon should she survive her quarterfinal match with American Coco Vandeweghe.
If she gets past them, she will have earned that spot in the final versus potential opponents from the other side of the quarterfinal bracket like Poland's Agnieszka Radwanska or Madison Keys who square off in one quarterfinal match. The survivor would get the Garbine Muguruza-Timea Bacsinszky winner.
We'll see if Little Sis can survive and advance to Saturday, and I'm rooting for her to do so.