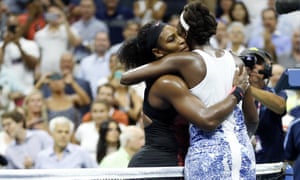 The US Open women's semifinals that were supposed to be played yesterday got rained out, so they were rescheduled for today and will be set up as a single daytime session.
It will start at 10 AM CDT with the match between number two seeded Simona Halep of Romania and one of the two Italian women left in the draw in Flavia Pannetta.
They are playing for their first trip to the US Open final.
Immediately following that match will be the highly anticipated one between the tournament number one seed Serena Williams and Italy's Roberta Vinci. As you TransGriot readers know, Little Sis is just four sets and two match wins away from completing the first calendar year Grand Slam since 1988 and capturing her 22nd career grand slam title.
Serena is 4-0 against Vinci, but as NFL analyst Herman Edwards has famously said, "That's why you play the games." But you have to believe that based on her performance against Big Sis Wednesday night, if Serena is playing at her A++ level, they may as well start engraving the trophy with her name on it now.
We'll see in a few hours how this shakes out.