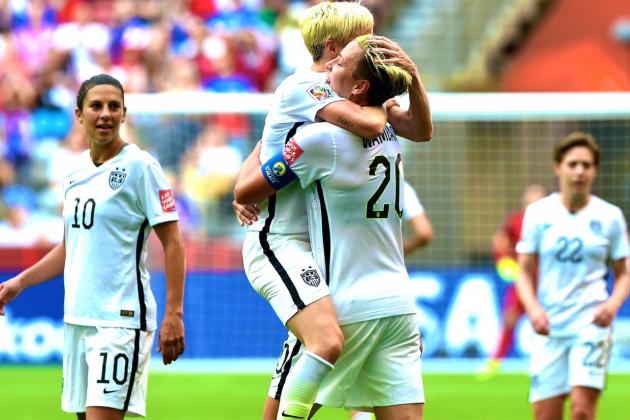 Last night Team USA played their final group match in Vancouver against Nigeria with much on the line.
A Team USA win over the Super Falcons would clinch Group D, send them into the knockout round with a favorable draw that would allow them to avoid a clash with FIFA number one ranked Germany until at least the semis, and they wouldn't play until June 22 in Edmonton against the third place team from either Group B, E or F.
While they were an unbeaten (4-0) against Nigeria coming into that match, there's always that chance the breakthrough win for the Super Falcons could come at any time, and with the team having come off a draw with Sweden and being dropped to number 4 in the FIFA world rankings, Team USA fans had a lot to be worried about.
But with Alex Morgan finally starting and being paired with her running buddy Abby Wambach, the team we were looking for offensively finally showed up.
They kept the pressure on Nigeria from the outset, and in the 8th minute finally broke through with a goal from Julie Johnston that was waved off due to a controversial offside call
But they kept attacking, and it was Abby Wambach to the rescue in stoppage time just before the half as she headed a corner kick from Megan Rapinoe into the back of the net for the only goal the USA would need.
It was Wambach's first of the tournament and 14th career World Cup goal, putting her at second all time behind Brazil's Marta. And to those of us in the US LGBT community, I loved the fact it was two of our LGBT family members teaming up to score against a Nigerian squad that bans gay players and sending them packing as a result.
Thanks to another clean sheet for Hope Solo, who has now gone 243 minutes without allowing a goal, the Red White and Blue have escaped the Group of Death and await their initial knockout round match against the third place team from either Group B, E or F