After navigating and defeating a series of knockout round opponents that included FIFA number 10 ranked Colombia, China, and FIFA world number one ranked Germany in the semifinals, Team USA not only reached the goal they set for themselves when this tournament started, they got the finals matchup they wanted in Vancouver with Japan.
And far from being the tight finals matchup that everyone expected, it turned into a surprising 5-2 rout as the USA scored four goals in a 16 minute onslaught that avenged the 2011 FIFA finals loss in Germany on penalty kicks to the Nadeshiko and sent them on cruise control to the FIFA women's world championship and first since 1999.
The Houston Dash's Carli Lloyd got things off to a fast and successful start when just 3 minutes into the match she scored the first of her three goals courtesy of a Megan Rapinoe corner kick to put Team USA up 1-0.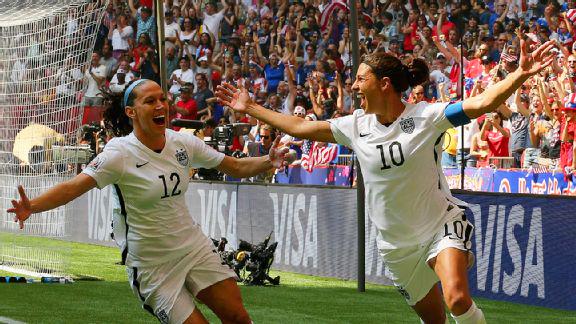 Two minutes later Lloyd was Janie on the spot as another corner kick from Lauren Holiday found its way through a maze of players to her foot and she tapped it in the net from short range for her second goal and fifth of the tournament which put the Red White and Blue up 2-0.
Lauren Holiday would score in the 14th minute to put Team USA up 3-0, but the offensive fireworks in BC Place weren't done yet to the delight of the pro-American crowd.
And if it wasn't enough for Carli Lloyd to score the two fastest goals in FIFA Women's World Cup finals history, she scored another one that will probably be talked about for decades that put the USA up 4-0
In what will rank up there as the goal of the tournament, in the 16th minute Lloyd capped off her finals hat trick by lobbing a ball from the midfield stripe 54 yards away from the Japanese goal that caught keeper Ayumi Kaihori way off her line. Kaihori stumbled and fell on her back as she tried to get back in position to stop the ball that sailed past her desperately outstretched hands into the net.
Speaking of goalkeeping, Hope Solo was working on a record of her own. When the match started she hadn't allowed a goal in 513 minutes, and for another 27 minutes Solo was handling her goalkeeping business until Yuki Ogimi fired a shot past her to cut the USA lead to 4-1.
She fell one agonizing minute short of breaking the Germans World Cup shutout streak record they set during their 2007 title run in which they didn't give up a single goal in the entire tournament.
In the second half Aya Miyama's free kick in the 52nd minute took a glancing blow off of Julie Johnston's head and unfortunately past Hope Solo for an own goal that cut the deficit to 4-2.
But just two minutes later Tobin Heath scored to push the lead back up to 5-2 to the delight of the 53,331 predominately American peeps in the stands as they began to party like it was 1999 and celebrate the Team USA women's third FIFA world championship and first in 16 years.
Hope Solo was deservedly awarded the Golden Glove Award as the best goalkeeper. and Carli Lloyd the Golden Ball as best player. She just missed out on the Golden Boot because although she and Germany's Celia Sasic had six goals, Sasic scored her six with less playing time than Lloyd.
It was also a long awaited celebratory moment for Abby Wambach, Christie Rampone and Shannon Box, who have probably played in their final World Cups for the Red White and Blue (we have got to get a cooler nickname for our women and men's national teams) and probably won`t be on the Olympic squad in Rio as the seek their fourth straight gold medal.
But that's next year. Congratulations to the now three time FIFA women's world champions. Time to sew that third star on the US team jerseys.
And Carli, hope you have some more scoring magic left for the remainder of the Houston Dash season.