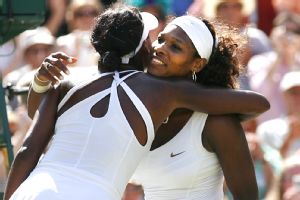 My favorite tennis playing siblings had a forgettable trip to Stade Roland Garros and its clay courts last month as they both exited the 2014 French Open earlier than planned due to second round upsets.
But starting today through July 6 is the Grand Slam tournament at the All England Lawn Tennis and Croquet Club in London which the Williams sisters have so thoroughly dominated it I call it 'Williams'-don.
Serena has won five titles here (2002, 2003, 2009, 2010, 2012) and so has big sis Venus (2000, 2001, 2005, 2007, 2008). As a matter of fact their domination at Wimbledon is so complete that during the 2000's the only years that someone not named Williams won the women's singles title was in 2004 when Serena was upset in the final by Maria Sharapova and Amelie Mauresmo of France won it in 2006 after defending champ Venus was upset in the third round by Jelena Jankovic.
During that stretch the Williams sisters met in the Wimbledon finals four times in 2002, 2003, 2008 and 2009 with Little Sis taking three of the four matchups. Serena won her 2002 and 2010 Wimbledon titles without losing a set, and Venus did the same in 2008
And yeah, can't forget to remind the Williams haters of the Olympic gold medal Serena won in the London Games and the London Olympic doubles title she and Big Sis won which was ahem, played at the All England Club.
The grass courts are well suited to their power game, and with Centre Court's retractable roof, when it's closed, they become even more lethal.
But it's the 2014 edition of The Championships, and both are seeking rebounds from the double disappointments in Paris and Serena's shocking fourth round upset loss here last year.
Number one ranked and number one seeded Serena starts the fortnight with an opening round match against fellow American Anna Tatishvili while 30th seeded Venus starts with an opening round match versus Spain's Maria-Teresa Torro-Flor.
The Williams sisters are also entered in the ladies doubles tourney as they seek to capture their first Wimbledon doubles crown since 2012.
And hopefully I'll get to see Serena holding up the Venus (Williams) Rosewater dish on July 6