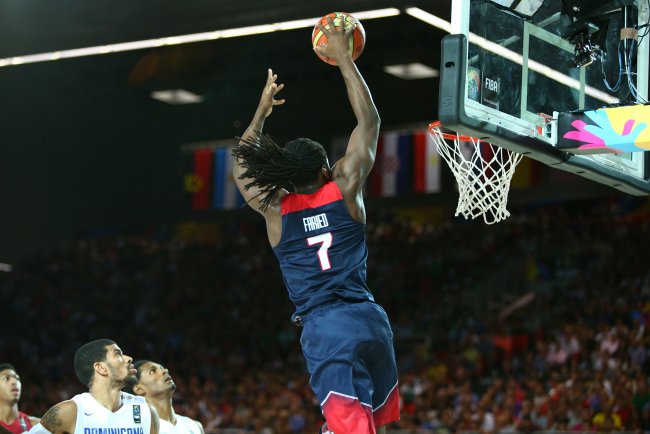 When I last checked in with Team USA in the 2014 FIBA World Cup Tournament in Spain they were just clinching the top spot in Group C pool play in Bilbao after blowing out New Zealand and the Dominican Republic.
Their final Group C game was on September 4 against Ukraine, who have been coached since 2011 by Mike Fratello, the former Atlanta Hawks head man and NBA TV analyst.
Thanks to another slow start by Team USA in which they didn't score for the first nearly 5 minutes of the game, Ukraine led 19-14 at the end of the first quarter and 27-25 midway through the second until a 19-5 run over the last 4:43 of the second quarter propelled Team USA to a 44-32 halftime lead.
The third quarter has been Team USA's quarter in this 2014 FIBA World Cup tournament, and this game was no exception to that pattern.
The USA lead grew to 69-54 by the end of it, and two quick baskets to start the fourth quarter ensured that Team USA would close this game out with a spotless 5-0 record in pool play with the 95-71 victory over Ukraine.
James Harden made us all happy in H-town with his 17 points to lead all USA scorers. Stephen Curry added 14 points with Anthony Davis chipping in 12.
After a day off to travel to Barcelona, because Team USA finished in their accustomed spot at the top of the group standings, they were rewarded by an initial Round of 16 knockout game on September 6 with the fourth place team from Group D, which turned out to be our southern neighbors Mexico.
While there is a bitter rivalry between the USA and Mexico in men's and women's soccer, that's not the case on the basketball court. The last time we played Mexico was during the 2007 FIBA Olympic Qualifying tournament quarterfinals, and the last time we met in FIBA World Cup action was 1967.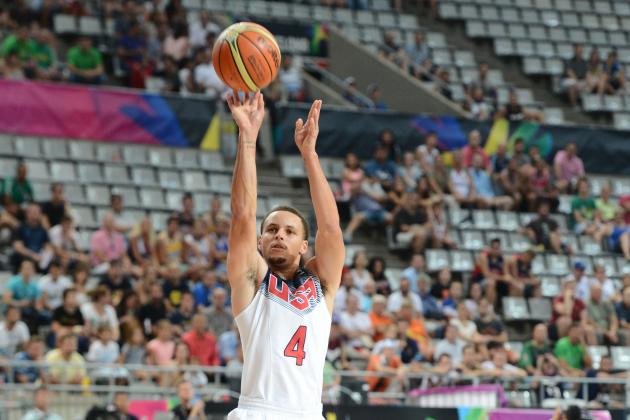 To make it more daunting for Mexico, this game was being played in the Palau Saint Jordi Arena, where the Dream Team romped to gold in 1992.
Unlike the previous Group C pool games, Team USA got off to a fast 13-2 start. Mexico pushed back with a 7-0 run of their own but Team USA finished the quarter with a 23-13 lead and surged to a 42-27 halftime edge.
Then Stephen Curry started lighting the Mexicans up from 3 point range and propelled Team USA to the quarterfinals. He hit two of his six three pointers back to back to start a personal 11-0 run that pushed the USA third quarter lead to 50-27.
Curry finished with a team high 20 points on 7 of 10 shooting, of which 9 of his 10 shot attempts were behind the FIBA arc. Klay Thompson contributed another 15 points to the Team USA cause while James Harden chipped in 12 points to send Team USA to the quarterfinal game against Slovenia with an 86-63 victory.
In yesterday's quarterfinal against Slovenia, Team USA reverted to its previous slow start pattern. It missed its first seven shots and finished the first half shooting a miserable 36.2% but aggressive offensive rebounding kept them in the game. They finished the first half with 16 offensive rebounds and a narrow seven point lead.
Once again, the third quarter has been the killer quarter for Team USA and they lived up to their tournament rep. They stormed out of the locker room and scored 37 points in the quarter to blow the game open, finish with 50% shooting and romp to a tournament high 119-76 win over Slovenia. .
Klay Thompson had team high scoring honors with 20 points off the bench with Kenneth Faried and Anthony Davis clocking double-doubles. Derrick Rose started looking like his old self with 12 points and five assists to help send Team USA to the semifinals against the always dangerous Lithuania.
The repeat is not complete yet. The host nation Spain is looking equally as impressive on their side of the bracket and they want nothing more than to avenge that Olympic loss to the USA in Madrid. But they have to get through France first.
Meanwhile Team USA needs to up their game to get past Lithuania and earn that trip to Madrid for the final .