The 2014 FIBA World Cup started while I was chilling in Louisville, and I got the opportunity when I wasn't running around hanging out with various peeps to watch Team USA take on Group C in Bilbao.
This version of Team USA is the youngest one (average age 24) we have sent to FIBA competition since we started using NBA ballers to handle our international basketball business.
The first game for Team USA on August 30 was against Finland, and it was the first time since the 1964 Tokyo Olympics that we'd played the Wolfpack in an international basketball game.
Team USA made short work of Finland by shooting 59% from the field, holding them to 0-17 shooting and a pair of free throws in the second period while rolling to a 60-18 halftime lead.
They blew them out of the Barakaldo Arena 114-55 for their 55th straight win in FIBA competition and their first one in group C play.
The next day was the 2010 FIBA final rematch against Turkey, and it wasn't the walk in the park that the Finland game was. Turkey slowed the game down to their pace, dared the USA shooters to hit three pointers (only one of those 9 first half three point attempts went in), clogged up the lanes with Omer Asik and fouled USA players to prevent fast break baskets when Turkey turned it over. Thanks to 37% first half shooting, sloppy ball handling and subpar defense, Team USA found itself trailing 40-35 at the half.
Coach K implemented the full court pressure defense to start the second half, and that got Team USA's fast break offense jumpstarted.
They trailed Turkey through much of the third quarter and tied at 59 with 3:10 left before they woke up, fixed the turnover issues and the dynamic duo of Kenneth Faried and Anthony Davis asserted themselves. Faried led all scorers with 22 points with Davis scoring all 19 of his in the second half as Team USA used a 7-1 third quarter closing burst for a 66-60 lead. The fourth quarter opening 10-0 run helped put the game away and powered Team USA to a hard fought 98-77 win and a 2-0 record in Group C play.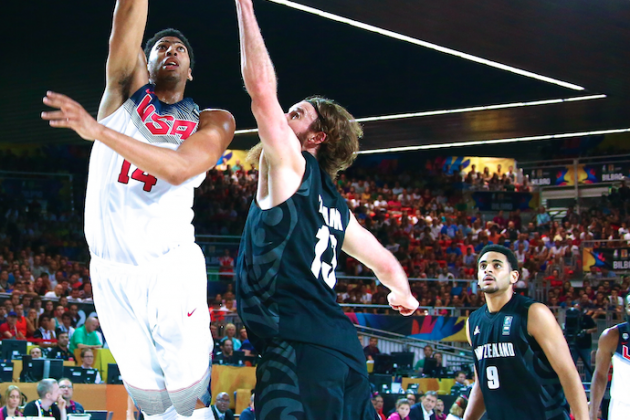 After getting Labor Day off, Team USA resumed its quest for a FIBA title repeat by facing the Tall Blacks of New Zealand yesterday.
New Zealand brought their rugby tradition of doing the haka dance to Barakaldo Arena before they played Team USA. After the Tall Blacks showed off their haka dance moves, Team USA proceeded to dance all over New Zealand 98-71.
It was Faried and Davis doing the damage once again, with Davis scoring a game high 21 points and Faried contributing a double double with 15 points and 11 rebounds to keep Team USA unbeaten in Group C play at 3-0 before they face the 2-1 Dominican Republic at 3:30 EDT.
So far so good in Spain so far.
TransGriot Update: After another slow start, Team USA woke up to run away with a 106-71 win over the Dominican Republic and clinch the top spot in Group C. They play their final group game tomorrow against Ukraine before they head to Barcelona to begin knockout round play against the 4th place team in Group D.