Team USA started this basketball business trip at the end of August with a few goals in mind. They wanted to become only the third nation to win back to back FIBA titles. They wanted to keep their winning streak going, and most importantly, qualify for the 2016 Rio Olympic basketball tournament.|
But to accomplish all of those goals, they would first nento get to the title game and win it.
That road to the title game started with a what was anticipated to be a tough semifinal matchup with Lithuania. The USA is 5-1 against Lithuania since 2000, but the loss was in pool play during the 2004 Olympics, and they have been single digit margin wins.
And this semifinal game stayed true to the pattern they had established in this tournament. They got off to a slow start, an led Lithuania by only seven points at halftime.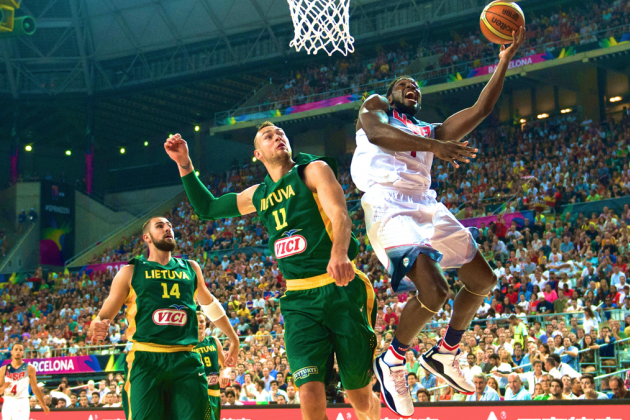 Then came the third quarter and the 10-0 USA run that broke the game wide open. They finished with a 33-14 quartet that turned what was a close game into a comfortable 96-68 romp to the FIBA final in Madrid.
With host nation Spain now out of the tournament due to their upset loss to France, they came into Sunday's title game as heavy favorites to walk away with the James Naismith Trophy.
Their opponent was Serbia, who knocked off France in the other semifinal.
Serbia jumped out to a 15-7 first quarter lead before Kyrie Irving shattered and splattered their upset title dreams by personally igniting a 15-0 USA run in which he lit up the Serbians with 15 first quarter points on 6 of 7 shooting and trigger the 9 of 12 three point shoot barrage that blew the game wide open and sent Team USA romping to a 129-92 win.
In addition to completing their tournament run and shutting up the international skeptics with a spotless 9-0 record, they (and the Brazilians as the host nation) get to chill while everyone else in the FIBA Americas Zone tries to qualify for Rio.
They also became the first men's squad to win four straight international B-ball tournaments (2008 and 2012 Olympics, 2010 and 2014
And what's scary for the rest of the FIBA basketball world to contemplate, we won this title without LeBron James, Kevin Durant, Blake Griffin, and Chris Paul .
The 2016 Rio Games should be fun to watch.